Minekart Madness
A new classic coin-op arcade game for your NES!
Minekart Madness is an homage to the simple coin-op games of the 80's. It takes inspiration from classics such as Donkey Kong and Pac-Man.

In Minekart Madness you are a dwarf piloting an out of control minecart! There is no way to stop, only slow down slightly. Navigate the winding tracks, while avoiding hazards and collecting precious gems.

But you only have a few minutes; when the clock hits zero it's game over! So optimize your route, exploit the looping levels, and shoot for that high score!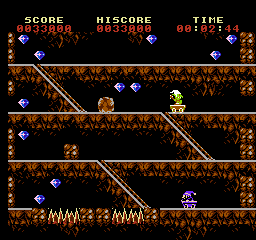 ---
Controls:

A - Jump
B - Slow Down
Up/Down - Hold to Switch Tracks
Start - Pause
---
Minekart Madness was created over a few weeks in the fall of 2022 for the annual nesdev competition.

Design & Coding by Matt Hughson (https://twitter.com/matthughson)
Music and Sound by Tuï (https://twitter.com/Tui2A03)
Art by Zolionline
---
Stay up to date with this game, as well as future games I am making!

Install instructions
Once downloaded, the *.nes file can be run in a free NES Emulator (like Mesen or FCEUX 2.3+) or on real hardware with an EverDrive (or similar.)